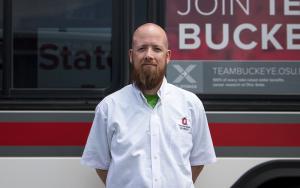 Tom Ioia (eye-owe-ah) wakes up each day thankful for the ability to drive a bus for the Campus Area Bus Service (CABS). He's thankful because, for the better part of the last decade, his ability to work hasn't always been a given.
"I just realize how much worse my health could be," Tom said. "I realize there are so many people that are worse off than I am, so I need to be thankful for what I do have."
In his 33 years of life, Tom has undergone six major surgeries to his stomach and he's had more hospital visits than he can even count. Twice, he's missed out on his daughter's birthday celebrations and once he couldn't take his wife out to celebrate their wedding anniversary because he was stuck in a hospital bed.
During a routine health exam in 2003 when Tom was a senior at Hilliard Davidson High School, he learned he had Familial Adenomatous Polyposis (FAP), a hereditary condition that forms precancerous polyps in the digestive tract. Tom's father also battled FAP, so the discovery wasn't a complete surprise. What wasn't expected was the long-lasting battle Tom has fought to simply regain what he considers a normal lifestyle.
In 2005, Tom had part of his large intestine removed, a procedure his father had previously undergone. The surgery seemed to do the trick for Tom's father, who didn't have any complications that followed. This was not the case for Tom.
In 2008, doctors discovered desmoid tumors growing in Tom's intestine. Tom underwent 12 months of chemotherapy to shrink the tumors.
Three years later, another obstacle. Tom had his first intestinal obstruction. 
"I would start getting really sharp abdominal pains to the point where I was doubled over," Tom said.
This was a condition that occurred at random and one that for four years didn't seem to go away. It led to an exploratory surgery in 2014 at Ohio State's James Cancer Hospital. The surgery helped doctors realize Tom was suffering from a condition that the surgery alone could not fix.
He was sent to the Indiana University Hospital in Indianapolis in May 2014, where Tom was told he was a candidate for an intestinal transplant. 
"Hearing I needed a transplant was the hardest part," Tom said. "It hit me like a Mack Truck. I remember hearing that and just losing it because I was thinking my life's over, or at least my whole life is going to change."
Because of the enormity of the procedure, doctors wanted to wait until the transplant was absolutely necessary. It didn't take long for his condition to turn that way. Tom suffered four more intestinal obstructions in 2015, leading to yet another surgery. At this point, he had all but 10 centimeters of his small intestine removed because it was overtaken by the tumors. A human small intestine is generally around 600 centimeters long. For 12 hours a day, Tom was hooked up to a machine that gave him IV nutrition. This was a treatment Tom learned to administer himself in the comfort of his own home, and it lasted for nearly a year.
In January 2016, Tom's doctor decided it was time for an intestinal transplant, placing Tom on a recipient waitlist. Tom remembers the day vividly, April 7, 2016, when he received the phone call. He was sitting at the Ohio Union, taking a lunch break from his driving shift. He thought he had heard something, so he pulled his phone out of his pocket and discovered he had missed a call from a phone number with an Indianapolis area code.
"I called back, and they said I needed to get there as soon as possible because they had received donated intestines. Right then, tears started flowing, my hands started shaking, my heart started racing like nothing I'd ever felt before. On one hand I was excited, but on the other I was scared out of my mind."
Tom rushed out the door, picked up his wife, daughter and mother-in-law to get to the hospital in Indianapolis.
The eight-hour surgery happened the same day and went according to plan. Tom spent the following three weeks recovering at the hospital.
"I spent a lot of time thinking about the family who had donated the intestines and what they were going through with their loss."
Tom's intestines came from a nine-year-old boy. The two families have connected once from mailing letters back and forth, but Tom hasn't been able to confirm the details on how the boy died. 
"I was certainly lucky because the demand for intestines isn't nearly as high as say a heart or kidney."
After four months away, Tom recovered and returned to his driving job with CABS on August 1, 2016.
"It helped me getting back around people and getting back into a routine because being stuck inside a house gets old really quick. Being able to catch up with coworkers and reconnect was helpful. All the pick-me-ups along the way were really helpful. The cards, the phone calls, the texts. It was awesome."
To date, the transplant is the last surgery Tom has undergone. Aside from developing a short case of pancreatitis, Tom has been relatively healthy. He knocks on wood as he recalls he hasn't had a hospital visit since November 2017.
Tom now cherishes the little things in life, like the time alone in his workshop at home and bike rides with his now nine-year-old daughter.
"It gives a sense of appreciation for something that I wasn't able to do before because I just didn't know when the next issue was going to flare up."
Through all of the hospital visits, surgeries and days of recovery, Tom's family was always his main motivation.
"I just wanted to get better. I just wanted to get back to a normal life so I could get home with my wife and daughter and be a part of their lives."
Now, Tom has added to his list of ambitions, pushing him through his everyday grind. In the fall of 2017, Tom became a student again, taking classes in the mornings so he can continue driving for CABS in the afternoons and evenings. Tom is aiming for his Bachelor of Science in Nursing at Ohio State, using the employee benefits package to his advantage. Tom's goal is to one day become an Organ Transplant Coordinator at the James to help future patients and their families navigate through the arduous path of an organ transplant.
"I want to be able to give back and help others because of the help so many other people have given to me throughout my journey. I want people to realize that people are there for you and I want to be that person for them. It's not just a Monday through Friday 9-to-5. It's a holiday, weekends, middle of the night, somebody is there to listen."
As an organ transplant recipient himself, Tom knows first-hand all of the emotions and uncertainties that can come along with the procedure.
"I have a different perspective that I can provide to a patient having gone through a transplant. The care my coordinators gave me, I was able to reach out any time day or night and I want to help future patients get through the process."
Tom hopes to earn the degree within the next five years. He admits, it can be difficult balancing class and homework with the daily responsibilities of a father, husband and full-time employee, but if anyone knows what a tough battle is like, it's him. 
"My perspective on life has certainly changed through all of this. I am thankful for the health I now have and the goals I have in front of me," Tom said.
"I don't care how long it takes to get this degree, as long as I'm able, I'm going to stick with it and get through it."
A statement that sounds all too familiar and, considering the source, is one that is easily believable.